Virtual experiences that deliver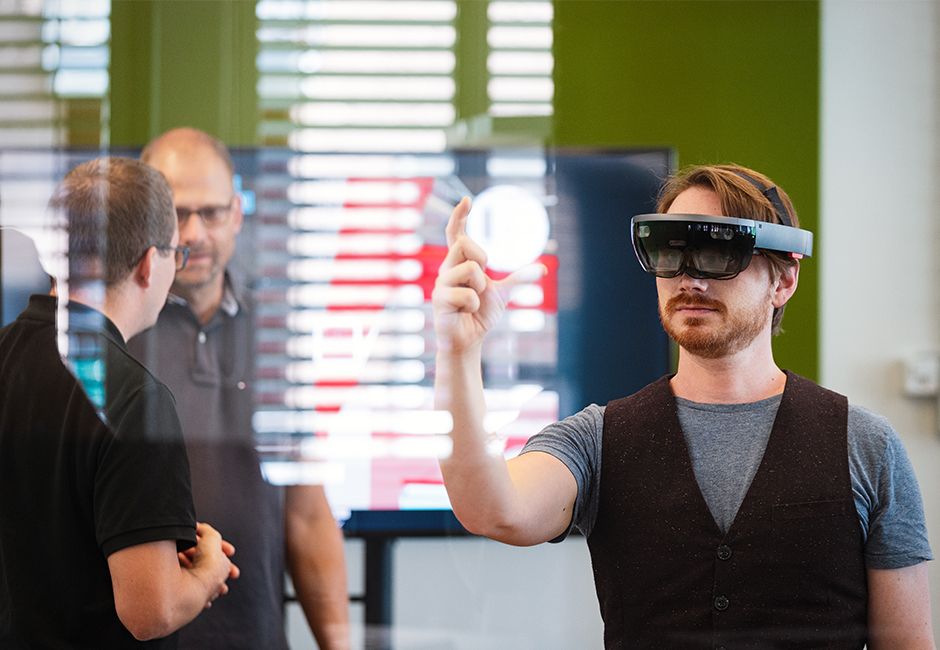 Augmented Reality (AR) has tremendous potential, especially in the world of business. But how can this technology be harnessed to create genuine value and give your business an edge over the competition? The following four use cases – spanning simplified, digital operation of devices, process optimisation and virtual planning – show how you can make the most of AR.
Augmented operation of devices: visualising information and interaction options
As a virtual interface for physical objects, AR offers a range of possibilities – from facilitating device identification to superimposing additional information to enabling more effective interactions. AR helps users to operate devices by allowing them to access relevant information; on site and in real time. It gives them a better overview of their environment and empowers them to make more efficient decisions.
Seamless data capture: gathering information from the physical world
Thanks to AR, data on a user's physical environment can be collected and analysed. Surfaces, objects and their positions, as well as distances and dimensions, can all be recorded. Objects are automatically identified and assigned to a particular data set or type. The digital system can, thus, understand a user's semantics and context.
Data that deviate from a baseline and from stored data are collected, analysed and automatically relayed to the IT system, where they are tracked and updated. This means it is no longer necessary to re-do settings or perform manual updates in the IT system. In short, AR simplifies, accelerates and improves the quality of data capture.
Optimising work processes: displaying information in context
AR can help you better understand processes by displaying information in a way that makes it easy for you to visualise what is going on. It can assist you by showing static information or video instructions, enabling you to talk to experts in real time via video chat or pinpoint where you stand in a given planning system.
AR allows you to execute individual work steps or perform functions quickly without having to arrange additional training. It can help you run your business more flexibly and efficiently, and save personnel costs.
Virtual scenario planning: visualising in a realistic virtual world
"What if…?" With AR, objects that do not yet exist can be visualised to scale in a realistic virtual world, so you can potentially dispense with expensive physical prototypes.
AR can substantially improve collaboration and planning: all stakeholders have the same level of information; expectations can be managed more easily; and decisions can be made more quickly. Any problems are also spotted sooner, saving you time and money for greater efficiency.
Using AR in your business can release potential, as it allows users to interact with devices in new, more useful ways. Relevant information and services can be made available in the right place at the right time – and, crucially, in a highly visual form that your staff can readily understand. Further, entire business processes can be optimised, thereby freeing up resources.
As professional software experts, we would be happy to support and advise you in your AR planning; from brainstorming ideas through programming prototypes to implementing full-blown, scalable, secure projects integrated into your existing IT landscape – we can draw on a wealth of experience to help you take your business to the next level.
Reports and News